Poulsbo
For more detailed information on this neighborhood, please click here
Aerial view of the historic downtown portion of Poulsbo, including the city's waterfront park and marina. Prominent above the downtown area is the Lutheran church, built in ____.
View of the three marina's on Poulsbo's Liberty Bay. Furthest South from downtown is the Liberty Bay Marina, the next marina North is part of the Poulsbo Yacht Club's facility and the marina adjacent to downtown Poulsbo is the City's facility,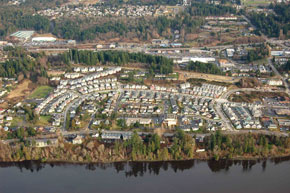 Poulsbo place is a large subdivision, known for its pastel colored homes and professionally tended grounds, immediately adjacent to the historic downtown area
Poulsbo is a small town in Kitsap County, about 17 miles, by ferry and road, from downtown Seattle. It is located on Liberty Bay, an approximately 3.5 mile long bay off Agate and Port Orchard Passage and just a few miles from Port Madison and Puget Sound. Its population is just shy of 10,000, a substantial portion of which work in the greater Seattle area.
Poulsbo has a long history as a destination for immigrants from Scandinavia, particularly Norway and Finland. Downtown Poulsbo maintains a Scandinavian theme in its shops and restaurants, and is a popular regional tourist destination. One of its local products is now available worldwide, Poulsbo Bread, originally made in the local bakery. Many visitors arrive by boat; there are three marinas near the town, and the town's harbor is an excellent anchorage.

Founded by Norwegian immigrant Jorgen Eliason in the 1880s, Poulsbo was settled in its early years by a large number of Norwegian and other Scandinavian immigrants because of its similarities to their native countries. In 1886 I. B. Moe, one of the early Norwegian settlers, suggested that the community should have a post office. Moe suggested the town be named Paulsbo (which translates as "Paul's place"), after the Norwegian village where Moe spent his early years. The community's petition for a post office was granted, and Moe became the first postmaster, but the authorities in Washington D.C. misspelled the town's name, probably because of illegible handwriting, and the community became known as Poulsbo thereafter. Poulsbo was officially incorporated on December 18, 1907.

Until World War II Poulsbo retained Norwegian as a primary language. However, during World War II, the military constructed about 300 residential units to provide housing for workers at the nearby Puget Sound Naval Shipyard, located in Bremerton, Washington. The population of Poulsbo almost tripled over three years, and the diversification of the population led to the dominance of English as the primary language.

Poulsbo is home to many different public schools in the North Kitsap School District. North Kitsap High School, Poulsbo Middle School, and Poulsbo Elementary are at the heart of town, while Vinland Elementary, Breidablik Elementary and Pearson Elementary schools lie in the surrounding areas. Private schools include West Sound Academy and Christ the King Academy.
According to the United States Census Bureau, the city has a total area of 3.8 square miles, of which, 3.2 square miles of it is land and 0.6 square miles of it is water.